How to brush my pets' teeth
What you will need…
– Finger brush or Pet bristle toothbrush
– Pet toothpaste (pets cannot use human toothpaste – it can be toxic to them)
Tooth brushing is the gold standard for plaque removal and for the prevention of periodontal disease.
For long term compliancy it is the aim to introduce your pet to tooth brushing slowly and for short periods of time to allow your pet to accustom to the procedure as a positive and non-stressful experience.
Apply the toothpaste to the brush and then push it down into the bristles. A finger brush or bristle brush may be used.
Start at a time when your pet is relaxed. Calmly sit them down on the floor or on your lap. It may help to have an extra person as a bottom stop to assist.
Place one hand across the bridge of the nose or muzzle, with a finger or thumb under the chin to keep the mouth closed. Gently lift the top lip and insert the toothbrush inside the cheek.
Gently brush the outside surfaces of all the teeth in circular motions with the toothbrush angled at 45° to the gum line. Start by cleaning the back teeth, focusing on the upper molars and then the canine teeth. When your pet is feeling more accustomed, progress to the front teeth.
To begin with your pet may not tolerate brushing for very long, so it is recommended to repeatedly change position
Brushing inner surfaces of the teeth can be trickier; however plaque is less likely to accumulate there.
Ideally, tooth brushing should be carried out daily, however twice per week if maintained can be sufficient to remove the accumulation of plaque.
If your pet has gingivitis (inflamed gums), the vet may recommend using a dental gel or solution containing chlorhexidine.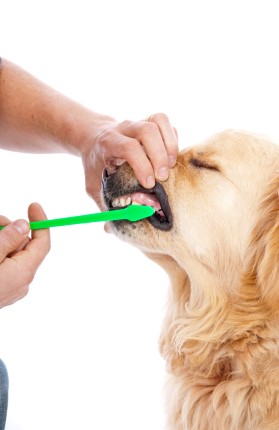 We have specially designed toothbrushes, finger brushes and pet toothpaste available at both our clinics and we are always happy to give a demonstration.