For most pet owners it is a rewarding experience to live alongside and care for their pets as they mature into their adult and senior years. With improved veterinary and lifestyle care, pets are living longer and more comfortably than before.
Dogs and cats don't live as long as humans and consequently they age much quicker than we do. At eight years old, both cats and small dogs are considered the human equivalent of being in their 50's. Large breed dogs tend to have shorter lifespans and are considered geriatric when they are around six years old.
Once pets become geriatric we recommend six-monthly health checks instead of annual visits. This allows any changes to be addressed early on and any diseases processes detected, enabling early treatment, improving both quality of life and longevity.
Blood and urine testing can be extremely useful in evaluating the health of an aged pet, especially with changes like unexpected weight loss, increased and decreased appetite and water intake. Some common health issues that can be diagnosed with the aid of these tests include bacterial urinary tract infections, kidney and liver disease, thyroid disease and diabetes. Sometimes a sedation will be recommended to ensure the safety and comfort of the pet.
Both cats and dogs are susceptible to arthritis. Common signs including difficulty rising from rest, appearing stiff and slow, and being reluctant to exercise. Cats may appear to be less active, sleeping more, and may miss when attempting to jump up onto the furniture.  Arthritis treatment in pets are similar to humans and may involve lifestyle and diet changes, along with any supplements or medications that may be appropriate to the situation.
Dementia has become a more frequently recognized ailment in older pets. Common behaviour changes observed include increased anxiety or aggression, changes to sleep and waking cycles, house soiling and increased vocalization. This can be distressing to owners. Fortunately, there are some excellent behaviour modifying supplements and medications that can help to alleviate and manage clinical signs of cognitive decline.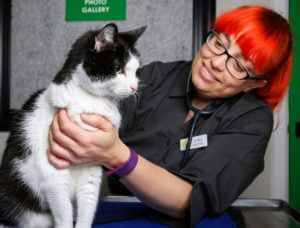 One of the most important conversations you can have at the vet clinic is the one regarding your pet's quality of life and end of life; an open discussion with the vet including an honest evaluation of your pet's quality of life can help to make this difficult and emotional decision easier. Your vet is there to assist you with every step in the journey of your pet's life with compassion and care.